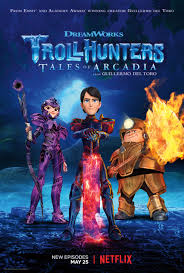 I am a HUGE fan of this series by Dreamworks and del Toro, and I am super excited for Wizards!!!
I enjoy watching this series for its excellent animation, storyline, cliffhangers, and endings.
I absolutely enjoy watching the characters and lore of Trollhunters, with it being my favorite series. I love how it shows how the characters have to deal with school and their regular life, while also compensating to their trollhunter duties (especially the first 13 episodes). I like how it shows the emotional fortitude of the characters, and adds a lot of meaning to the story. I also enjoy how it shows the relationships between characters, such as Jim and Claire's or Jim and Steve's.
I like the plot setting and character diversity of 3Below, as well as the complicated and meaningful messages presented across the 2 Part storyline.
I can't wait to see what del Toro has in store for us when Wizards comes out.
I am reading the Trollhunters series and plan to read Arcadia-con, the first 3Below book!
I enjoy contributing to Fandom to help other people find information about this series and because I like thinking about this series and want others to feel the same enjoyment that I do and be properly educated about this series.
I hope that del Toro expands the trilogy into something more, into more for us huge fans of TOA so that we can get our fill of awesome animation and storyline. If there is anything del Toro has mastered, it is storyline, cliffhangers, and endings.
#TalesofArcadia
My favorite pages
Community content is available under
CC-BY-SA
unless otherwise noted.