"

The stories follow the inhabitants of the small suburban town of Arcadia Oaks, California, which is secretly home to various supernatural creatures, and the teenage heroes who fight against the forces of evil that lurk in the shadows.

"

―Synopsis
Tales of Arcadia is a Netflix original science fantasy franchise created by Guillermo Del Toro, produced by DreamWorks Animation and Double Dare You Productions.
The installments of the trilogy series, Trollhunters, 3Below, and Wizards, have been released worldwide.
The grand finale to the saga, Trollhunters: Rise of the Titans, was released on July 21st, 2021.
Trollhunters: Defenders of Arcadia is available for PS4, Xbox One, PC, and Nintendo Switch.
Production
[
]
Guillermo Del Toro originally intended to create a live-action series called "Trollhunters", but due to budgetary concerns it was deemed to be impractical. He instead made it into a book he co-wrote alongside Daniel Kraus. Guillermo then pitched a animated the show to DreamWorks but they then planned to make an animated film adaptation of the book, but they eventually decided to make it back into a television series instead to expand the story.
On November 6, 2017, Guillermo Del Toro announced that the Trollhunters universe would be expanded into a trilogy of sequel spin-offs: 3Below (the second installment) and Wizards (the third and final installment).
All three of the installments, Trollhunters, 3Below, and Wizards, have been released worldwide, consisting of 88 episodes in total. The final installment of the franchise, Wizards, was originally set to be released at the end of 2019, but due to production issues, it was instead pushed to the summer of 2020 as a limited series.
In December 2017, it was revealed that two characters from Trollhunters ― Steve Palchuk and Eli Pepperjack (voiced by Steven Yeun and Cole Sand, respectively) ― will have their roles extended into 3Below. In April 2018, it was announced that the role of Jim Lake Jr. would incorporate both the voices of the late Anton Yelchin and Emile Hirsch for the entirety of Part Three (and, by extension, the trilogy itself), and the two characters introduced in Part Three of Trollhunters ― Aja and Krel Tarron (voiced by Tatiana Maslany and Diego Luna, respectively) ― will also reprise their roles and serve as the main leads of 3Below.
Since its release, the Tales of Arcadia franchise has been widely praised as an ambitious and boundary-pushing animated series, with Filmink's Travis Johnson calling it "...the best children's animation to come along since Avatar: The Last Airbender." The series was nominated for nine Daytime Emmy Awards in 2017, winning more than any other animated or live-action television program that year. It has also received or been nominated for a BAFTA Award, several Annie Awards, Kidscreen Awards, Golden Reel Awards and a Saturn Award.
The trilogy has also spawned several books and a series of graphic novels by Marc Guggenheim and Richard Hamilton released by Dark Horse, and a video game, Trollhunters: Defenders of Arcadia, on PlayStation 4, Xbox One, Nintendo Switch and Microsoft Windows.
In August 2020, on the day Wizards released worldwide on Netflix, it is announced that the saga will be concluded with an original feature film, Trollhunters: Rise of the Titans, which was released on July 21st, 2021. However, it's hinted by Aaron Waltke on a Discord message that Del Toro has plans to pitch a series of shorts, but it's currently unknown if it'll be produced or not.
The Tales of Arcadia franchise has been critically acclaimed for its high quality CGI animation, its dark, emotional and mature tone and writing, best-known voice acting, representation of immigrants, themes of ideological war, prejudice, racism, music, and characters.
Franchise Summary
[
]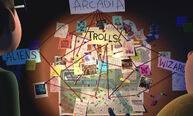 Arcadia Oaks may seem like an ordinary, sleepy suburban town.
However, unbeknownst to many of its people who reside in this seemingly ordinary community, it holds some amazing secrets under their very noses: civilized trolls thriving peacefully underneath the town's streets, alien royalty hiding diligently in the town's neighborhoods, and mysterious wizards walking obscurely amongst the town's residents.
Ferocious trolls and magic beasts from underground, royal aliens and spaceships from up above, powerful wizards and ancient tomes from side-to-side: magic and technology is everywhere!
However, it also attracts some very nasty visitors who want nothing more than to claim it all so they can rule and destroy the entire universe. It's all up to Arcadia's young teenage heroes and their loyal allies who are the only ones who can stop the evil lurking within the supernatural... all while balancing their normal high-school lives and saving the world like your average, everyday teenager.
Trilogy
[
]
DreamWorks Trollhunters is from the limitless imagination of acclaimed filmmaker Guillmero Del Toro that comes with a tale of two worlds set to collide in an epic saga. When ordinary teenager Jim Lake Jr. stumbles upon a mystical amulet on his way to school one morning, he inadvertently discovers an extraordinary secret civilization of mighty trolls beneath his small town of Arcadia. Suddenly destined to play a crucial role in an ancient battle of good and evil, Jim is determined to save the world – right after gym class!
Main article: List of Trollhunters episodes
The first arc of Part One (Eps. 1-13) focuses on Jim being chosen by the Amulet of Daylight to become the first human Trollhunter, visiting Heartstone Trollmarket, and learning all about the mythical troll world, all while balancing his newfound double life. He later learns that evil trolls called "Gumm-Gumms" are trying to free their leader, Gunmar the Black, by collecting pieces of the Killahead Bridge (the portal to Gunmar's Darklands), headed by changeling troll, Strickler, and Gunmar's son, Bular. It's all up to Jim, his best friend, Toby, and his mentors, Blinky and AAARRRGGHH!!!, to find the bridge and prevent Bular from freeing his evil father and destroying humanity.
The second arc of Part One (Eps. 14-26) focuses on Jim and his closest friends and allies banding together to rescue Claire's baby brother, Enrique, who is being kept deep in the bowels of the Darklands' nursery. In order to do so, they must uncover the three lost Triumbric Stones so they can create a mighty weapon called the Eclipse Blade, a powerful sword capable of wounding and slaying the evil Gunmar once and for all. Along the way, however, Jim is also faced with the return of changeling Strickler, who attempts to take leadership of his own community by unleashing an ancient warrior assassin troll named Angor Rot to kill the Trollhunter and take over the world himself.
Part Two focuses on Jim escaping the Darklands with help from his friends and returning home. He has succeeded in rescuing Enrique, but the evil Gunmar has been inevitably released into the surface and intends on finishing what he started, with aid from the secret Janus Order. Because of his actions, the human Trollhunter faces serious accusations from the hubristic Troll Tribunal. Meanwhile, major events begin to unfold, such as Steve and Eli forming a fighting team of their own, Blinky having a not-so-happy family reunion with his so-called deceased brother, Dictatious, Trollmarket being taken over by a traitorous mole in the midst, and something dark happens to Claire.
Part Three focuses on the fates of the human and troll civilizations hanging in the balance. With Trollmarket taken over by the Gumm-Gumms, the surviving trolls are forced to take refuge in the shadows of Arcadia and must stay hidden from the evil monsters that are scouting to kill them. Meanwhile, the Trollhunters race to stop Gunmar, the resurrected assassin, Angor Rot, and the evil witch, Morgana, from bringing about the Eternal Night and shrouding the world in darkness forever. To defeat them, the team must seek out the legendary wizard, Merlin, to unlock his ancient magic and unleash a powerful weapon which will alter the course of their lives forever.
3Below (2018-2019)

[

]
DreamWorks 3Below tells the story of two royal teenage aliens, Princess Aja and Prince Krel of House Tarron, and their bodyguard who flee a surprise takeover of their home planet by an evil dictator and crash land on Earth in Arcadia. Now on the run from intergalactic bounty hunters, they struggle to blend in and adapt to the bizarre world of high school all the while attempting to repair their ship so they can return and defend their home planet.
Main article: List of 3Below episodes
Part One focuses on two royal Akiridion siblings, Aja and Krel Tarron, along with their guardian, Varvatos Vex, as they crash land on Earth in Arcadia after their planet, Akiridion-5, has been taken over by General Morando and his army. The siblings must remain in Arcadia together while their parents recharge in their stasis chambers. While on Earth, the children try to find components to repair their ship to return home, while trying to fit in with the humans. However, desperate to end House Tarron once and for all, Morando hires the deadliest bounty hunters in the seven galaxies, the Zeron Brotherhood, and his new highly destructive creation to locate the royals and take their life cores.
Part Two focuses on Aja and Krel, still stranded on Earth with their Mothership incapable of space travel, enjoying their summer vacation with their earthling friends, attempting to find a way to return to Akiridion-5, and learning more about their connection to Earth. Still reeling in from the betrayal of their fellow guardian, Aja and Krel must protect the town from more dangerous bounty hunters, all with the supernatural more known to the town of Arcadia. However, now aware of the royals' whereabouts, General Morando has arrived on Earth to find the legend of Gaylen's Core so he can destroy House Tarron and the entire universe, alongside with his new comrade, Colonel Kubritz.
DreamWorks Wizards brings the young heroes of Arcadia into the distant past, when the desperate worlds of mortals and magic find themselves drawn into a brewing conflict. The final chapter of the trilogy culminates in a time-traveling adventure to restore history and clash in an apocalyptic battle for the fate of the future.
Main article: List of Wizards episodes
The limited series focuses on Merlin's wizard-in-training, Douxie, and the heroes of Arcadia, Claire, Steve, and Jim, embarking on a time-bending adventure to medieval Camelot that leads to war between King Arthur and Gunmar, which will determine the fate of the human world and supernatural worlds as their conflict brews, courtesy of the mysterious Arcane Order and their dark champion, the Green Knight. Meanwhile, Claire struggles to accept her dark gifts and escape from guilt, Steve trains himself to earn valiance of knighthood, Jim tries to convince the good trolls to fight while battling his own darkness, and Douxie wishes to prove himself worthy to his master.
Feature Film
[
]
Arcadia Oaks may look like an ordinary town, but it lies at the center of magical and extraterrestrial lines that makes it a nexus for many battles among otherworldly creatures including trolls, aliens, and wizards. Now, the heroes from the hit series Trollhunters, 3Below, and Wizards team-up in their most epic adventure yet where they must fight the Arcane Order for control over the magic that binds them all together.
Legends
[
]
Novels
[
]
Comics
[
]
Game
[
]
Extras
[
]
Characters
[
]
Protagonists

[

]
Antagonists

[

]
[Note: Names in Bold and Italics means that the villain is reformed and is currently on the side of good]
Supporting

[

]
Unseen

[

]
Videos
[
]
Recap
[
]
Trailers
[
]
Soundtracks
[
]
Main article: Soundtracks
Trivia
[
]
Gallery
[
]
Arcadia Oaks-pedia has a collection of images and media related to Tales of Arcadia which can be found at Tales of Arcadia/Gallery.