"

Arcadia is a hotbed for supernatural activity. Some confirmed, some I've yet to scratch the surface of. Yes. Right now, I've got more questions than answers. But now that we have proof, so many possibilities are open to us... There's a whole other world beneath our feet we know nothing about. Creatures living in shadow, monsters living amongst us. But what do they want? Are they friends?...Whatever they are, someone or something in Arcadia is at the center of this, covering it up. Why does no one know? Who's hiding the creepers from the world?

"
Elijah "Eli" Leslie Pepperjack is a major character in the Tales of Arcadia franchise (sans Wizards).
He is a student of Arcadia Oaks High, a conspiracy theorist investigating the supernatural within Arcadia Oaks, a member and co-founder of Team Creepslayerz, the first (unofficial) earth ambassador of Akiridion-5, best friends with Steve Palchuk and Krel Tarron, the son of Mr. and Mrs. Pepperjack, and the godfather of Maja, Baja, Taja, Faja, Daja, Waja, and Eli Jr.
History
[
]
Main article: Eli Pepperjack/History
Physical Description
[
]
Eli was a very petite teenage boy with messy black hair (brown in 3Below) parted to the left and shorter on the sides, fair skin, an oval shaped face, and brown eyes. He used to be rather scrawny and short as he was not very athletic, though not as much as Toby. However, by 3Below, he's become more fit and somewhat muscled, presumably due to Steve's influence. By Rise of the Titans, Eli has significantly matured during his time on Akiridion-5; he has grown almost past Steve's height, his shoulders and chest are noticeably broader, and his jaw has sharpened.
In Trollhunters, he wears a light green v-neck T-shirt, light brown cargo shorts, a black belt with a silver buckle, white socks, dark teal square glasses, and black trainers with stockings.
In 3Below, his green shirt is darker and he now wears dark blue shorts.
In his Creepslayerz uniform, he wears a black helmet with a "Z" symbol on the front, black liners under his eyes, a black T-shirt, black sweats, and black shoes with heel-wheels. He often wears a black backpack to store his weapons.
In Rise of the Titans, he wears an Akiridion jumpsuit similar to Krel's and occasionally wears his Creepslayerz helmet and backpack.
Personality
[
]
"

While someday he might just be running a cutting-edge technology company, today he's just Eli Pepperjack, super-nerd and geek extraordinaire. Eli's knowledge of all things paranormal helps him crack the case of the Creepers in Arcadia.

"
Eli is seen to be a socially awkward and disliked boy at school, despite his best efforts. He's also quite nerdy, as well as intelligent, and seems to have a knack for acting and theater, since he was the narrator for the school play. Somewhat like Jim, he seems to be somewhat of a mama's boy, since he is remorseful whenever he talks back at his mother or disobeys her.
Although naturally kind and well-meaning, Eli is very nosy as he almost always sticks his nose in where it shouldn't belong, no matter how annoyed his target of suspicion becomes or if the target's situation doesn't concern him. His overdetermination and over eagerness to prove the existence of supernatural creatures often puts himself in harms way, but slowly and surely grows a little calmer as he involves himself with the supernatural more. He also has a tendency to jump to conclusions far too quickly. He once immediately suspected that Jim was a bad guy and was helping the "creepers" take over the world, but later learns that he's a Trollhunter and helping good trolls. He even thought that Zeron Omega was a good guy, despite the obvious fact that he was not, and ignored Krel's warnings. After discovering that Aja and Krel are aliens, he immediately came to the conclusion that they're hostile aliens plotting to destroy Earth (despite having no evidence of that), but later realizes from Steve that they mean no harm to anyone.
These traits most likely reveal that Eli is (quite possibly) diagnosed with a mild case of paranoid personality disorder. He tends to act initially suspicious towards almost anyone he talks to (even his own friends sometimes, like Jim and Krel), is completely eager when it comes to exposing the supernatural to the whole world, and he generally thinks that he and everyone in Arcadia is in constant danger (which is actually true).
In Trollhunters, Eli became aware of the existence of troll life after he saw Blinky, AAARRRGGHH!!!, and Bular run by his window, but no one believes him when he tries to tell them. He tries to get more proof of the supernatural worlds' existence, but he usually ends up losing all his evidence or gets beat up. In Part Two, Eli starts to get more focus than he did in the previous chapter. When Steve captures a goblin, Eli explains how he's been documenting the supernatural conspiracy for years. Since he and Steve became best friends and started investigating the paranormal activity, he seems to have grown a bit of a spine.
In 3Below, Eli becomes a lot more nosy than he was in Trollhunters when he first witnessed the Mothership appear in the sky. He begins to spy on Aja and Krel after he saw them in their alien forms, but somewhat holds back after Krel manages to convince him that they were only cosplaying. However, after realizing that he saw a spaceship (the reprogrammed Mothership) and that Aja and Krel's house is gone, he immediately rushes to the scene and snaps some pictures of them in their true forms, now more determined to show proof that there are aliens in Arcadia. He then decides to let go of this since learning that Aja and Krel don't mean any harm to the planet.
Powers & Abilities
[
]
Powers
[
]
Above-Average Physiology: As an average human, Eli possesses no supernatural abilities whatsoever. However, his physiology is slightly greater than other kids his own age.

Durability: Eli has shown to be able to withstand a whack from Zeron Omega, who is far beyond human levels of strength. Not only that, but he also rolled down a steep hill without sustaining any physical lacerations or broken bones. Prior to Trollhunters, he is shown to take physical bullying from Steve Palchuk, a strong jock, with no visible injuries. However, Eli is still quite weak and admits that he has fragile ankles.
Agility: Eli was shown to be able to back-flip off a rope with ease, possibly due to Steve's influence.
Abilities
[
]
Amateur Combatant: It is clearly shown that Eli's combat skills are less than Toby and much less any trained warrior like Aja and Jim, but he knows how to use his weapons and fight off minor enemies for a short time, like a few Gumm-Gumms and Omen Blanks.
Observance: Eli is pretty observant of what goes on in Arcadia and often does research on the paranormal worlds of the trolls, aliens, and wizards. He uses a bulletin board to put his clues together and tries to come to the best conclusion possible.
Engineer: During his time on Akiridion-5, Eli has become an exceptional inventor. He was able to help design the Gun Robot Megasuit to help Varvatos fight against Bellroc's Fire Titan.
Driving: Despite no prior training, Eli is able to stunt-drive pretty well, even Tokyo Drifting perfectly for the first time.
Violinist: Eli was briefly shown playing a violin perfectly in "Luug's Day Out" during Steve's audition for Kleb or Alive.
Actor: As shown at the end of "The Battle of Two Bridges", Eli was casted to be the narrator for the play, and he's actually a fairly decent actor. In 3Below, Eli acts in his and Toby's short film Kleb or Alive as a scared citizen in need of rescue.
Weaknesses
[
]
Mortality: As a human, Eli possesses a mortal body, so is therefore highly vulnerable to any forms of injuries, sicknesses, and death.
Weak Bones: Despite his slightly above-average durability, Eli claims that he still has weak ankles, so he doubted that his body could take a fall out of a moving truck.
Equipment
[
]
Creepslayer Uniform: Eli has protection from the black helmet and shirt, as well as being able to sneak around at night easier; the black backpack he wears holds many useful items for his convenience.
Mace: Eli uses a mace to fend for himself against his foes, in the same vein that cops use pepper spray to blind criminals.
Shurikens: Eli keeps several shurikens in his toy chest, so he can use them someday. He uses them to throw at the enemies and trap them up against the wall. However, he admits that he needs a change in equipment since they cannot penetrate alien armor like Kubritz's.
Wheelies: Eli's shoes have built-in wheels that help him glide through the ground at a neutral speed to evade danger.
Umbrellas: Eli and Steve used the umbrellas from the upcoming school play to help protect the trolls from sunlight.
Baseball Bat: Eli briefly uses a baseball bat to fend off goblins with Steve during the Eternal Night War.
Stink Bombs: In "Ill Gotten Gains", Eli once uses a stink bomb to try and knockout an Area 49-B hazmat soldier, only to realize that he was wearing a mask and couldn't smell the odor. However, it did cause his classmates to stampede over him to get away from the bad smell.
Relationships
[
]
Main article: Eli Pepperjack/Relationships
Quotes
[
]
Main article: Eli Pepperjack/Quotes
Episode Appearances
[
]
Film

[

]
Appears
Trivia
[
]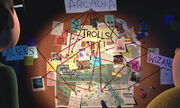 Eli is currently the first known human to visit Akiridion-5.
His favorite teacher is Lenora Janeth.
Eli has a self-made conspiracy wall in his room, which shows activities of trolls, aliens, and wizards; he is the only character to have one.

He is one of three witnesses to Kanjigar's final battle and death in "Becoming: Part 1"; separate from Blinky and AAARRRGGHH!!! (both of whom he was not aware existed), Eli photographed and watched the final fight between Bular and Kanjigar in the opening scene as well as Kanjigar's heroic sacrifice and demise. The photo he took of the fight would later be pinned onto his conspiracy board.

In "Where Is My Mind?", Eli's worst nightmare is revealed to be no one believing him.
In the episode "Something Rotten This Way Comes", Eli is on Gunmar's list of Jim's loved ones that he will kill to "make a throne from their bones".
Eli is allergic to gluten, as he states in "Just Add Water". He's also allergic to avocados, as he admits in "Dogfight Days of Summer".
In "Party Crashers," Eli tells Krel that he wet his bed until he was in 8th grade. However, it's unknown if he just made this up to make Krel reveal his true identity.
As of "Dogfight Days of Summer", Eli has the third highest score in Toby's video game Go-Go Sushi.
In 3Below, Eli's voice becomes more deep, due to Cole Sand's aging. This was lampshaded by himself and Steve in "Party Crashers" and later by Toby in "Moving Day".
Eli's design is somewhat reminiscent of Jim's from the 2015 book and his personality is reminiscent of Jim's father.
Since Eli and Steve have gained bigger roles in the franchise and are the ones investigating the supernatural problems, it would make them among the stars of the franchise (in a sense of perspective).

Eli was originally going to appear in Wizards, alongside Steve, but he's never shown (only mentioned in a few episodes by Steve).

In an interview for Part Two of Trollhunters, Guillermo Del Toro and Marc Guggenheim said that Eli and Steve were their favorite side characters to flesh out and develop.
Eli is one of the only main characters of the franchise who doesn't have a love interest.

Despite this, other characters have assumed that Eli and Steve were dating. During the 3Below episode "The Fall of House Tarron", Toby calls Eli and says, "Eli is Steve with you? I know you're just Creepslayerz, not dating, but is he with you?"

Technically speaking, Eli is not an official ambassador to Akiridion-5 from Earth, as he was not appointed by any Earthly government and he would need to be chosen unanimously or at least by the U.N Security Council, which would be required for him to be an official "Earth Ambassador".
Eli's ownership of several shurikens is questionable, since it is illegal to own them in California.
Gallery
[
]
Arcadia Oaks-pedia has a collection of images and media related to Eli Pepperjack which can be found at Eli Pepperjack/Gallery.
References
[
]