Welcome to Arcadia Oaks-Pedia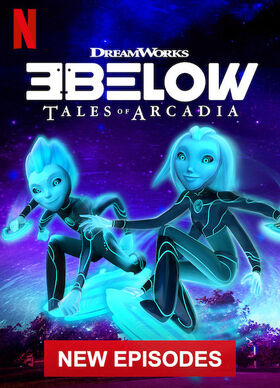 Tales of Arcadia is a computer-animated science fantasy trilogy franchise created for Netflix by visionary filmmaker Guillermo Del Toro and produced by DreamWorks Animation and Double Dare You.
The trilogy follows the inhabitants of the small suburban town of Arcadia Oaks, which is secretly home to various supernatural creatures, and the teenage heroes who fight against the forces of evil that lurk in the shadows.
The first two installments of the trilogy, Trollhunters and 3Below, have been released worldwide. The third and final series of the trilogy, Wizards, is set to be released later in 2019.
The most recent release, which is the second and final chapter of 3Below, began streaming on Netflix on July 12th, 2019.
Arcadia Oaks-Pedia
We're an encyclopedia run and maintained by people just like you! Created by fans, for fans, the Arcadia Oaks-pedia is dedicated to building a comprehensive and informative resource about all things Tales of Arcadia. For the glory of Merlin, the wiki is yours to command! Sign up for a free account and start editing today!
Community content is available under
CC-BY-SA
unless otherwise noted.