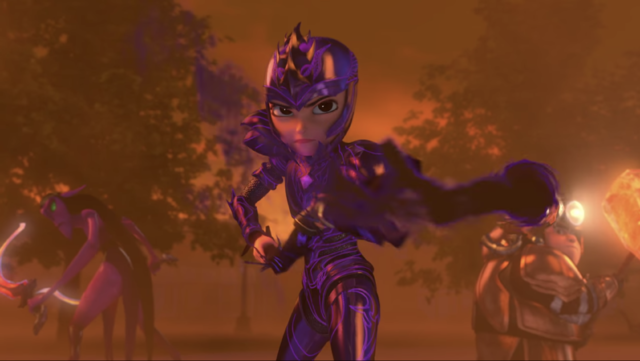 Okay, it's a long shot, but an interesting theory came to me after I watch a movie related to the Arthurian legend (it's called Avalon High, a Disney Channel Movie, and I just found it interesting if you were wondering).
What if Steve is unknowingly the reincarnation of the legendary King Arthur? There were just some potential foreshadowings I found, like in Spring Fling. Sure, it was clearly rigged, but what if this was suppose to show some light that there's more to Steve than the heroes think.
I mean, in some adaptions, Arthur (as a prince) started off as a world-class jerk and bully who is constantly spoiled by his reputation. Luckily, Arthur then gradually develops into a noble and honorable king after he begins to make some new friends. That's kinda like Steve. He started off as a jerk, until he suddenly finds a "creeper" and throws aside his desire to bully Eli to get answers. Gradually, Steve becomes a more loyal friend and realizes that there's more to life than being "king".
Also, Steve and Arthur have rocky relationships with their fathers. In many adaptions, Arthur's father, Uther, was a tyrant who mere wants to satisfy his needs and desires for a "perfect" kingdom, even trying to shape his son into himself. Steve's father is mentioned to be quite harsh towards his son before he was forced out of the house.
Maybe this will come to play in Wizards during the final battle, and will completely shock/amaze everyone (even Steve himself). Besides, who would believe that a large oaf who appears incompetent in battle possibly be the next king from legends?
Not only Steve, but I think Claire could also be a new potential reincarnation, maybe of Morgana?
Yes, it's clear that Claire despises Morgana and would most likely deny being anything like her. But what if since she did die while being trapped in the Shadow Realm, Morgana and Claire were still technically linked to each other, sharing the same essence and mind AS ONE!
This could mean that Morgana was never really killed, but instead reincarnated herself as Claire in the last minute after she shoved her through the portal while trying to complete the process, knowing she would die if the staff was destroyed. Morgana would lay dormant within Claire until Claire begins to have visions and starts to question her role as a Trollhunter. She begins to believe everything she did wasn't worth it, and desperately tries to keep Jim to herself when things take a turn.
It would be an interesting plot twist, Claire becoming the new Morgana, while she's instantly trying not to become her, but become better than her. But everything would lead to her becoming the new dark witch.
I don't know if it'll happen, but it's just a theory.